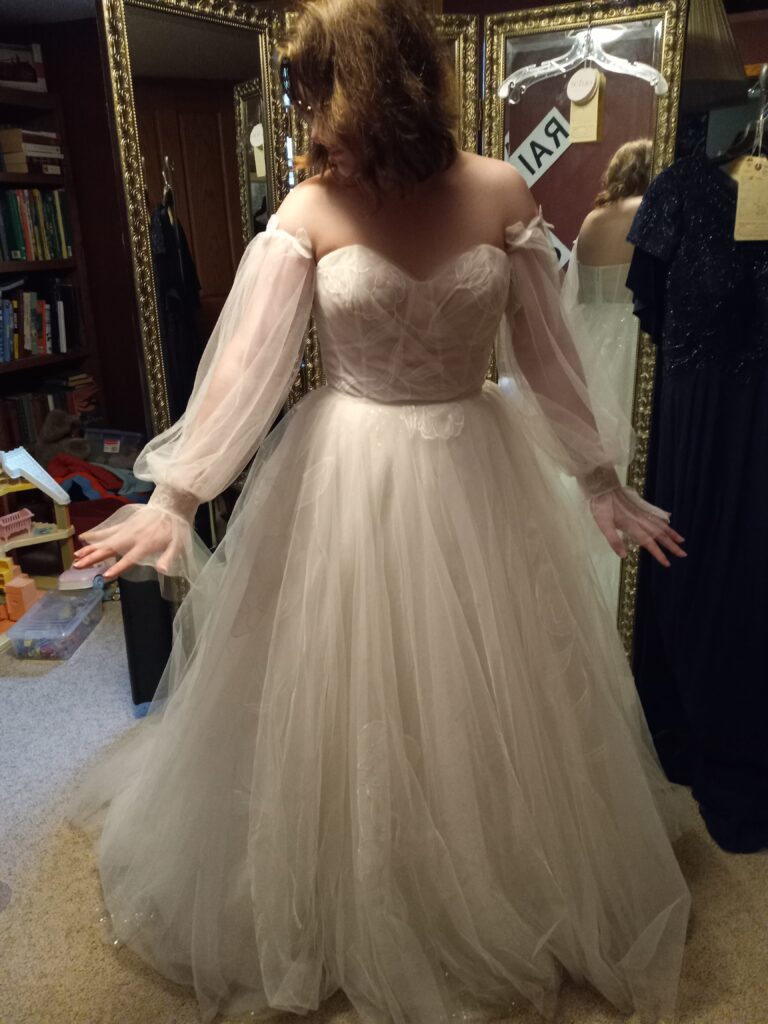 A dress rarely fits perfectly right off the rack. Even the so called 'custom' ordered dresses need some fine tuning. That is what I am for!

Scheduling: All alterations require a scheduled appointment. Each appointment is approximately 30 minutes, often we don't need the entire time. Walk-in fittings are normally not available.
---
How much time should I allow prior to the event in order to get the dress done?
For brides, I recommend that you schedule your first fitting at least 10-12 weeks in advance of your wedding date. Then, we might need 2-4 fittings following that, depending on the amount of work that needs to be done.
For bridesmaids, mother of the brides/grooms, prom and other formalwear gowns, it is best that you schedule your first fitting at least 8-10 weeks in advance of your event. We rarely have more than 1-2 fittings for these dresses because they typically have less layers and are less complicated.
Your dress will be ready for pickup one week prior to your event. If you need it sooner, please let me know at the time of your first fitting or ASAP.
If for some reason the time above time frame does not work – give me a call as soon as can and I'll do my best to fit you into the schedule. Please note there may be a rush fee for alterations requested within two weeks of your event.
What and who should I bring to my fitting?
Bring the shoes and the shape wear (Spanx, slip, etc) you will wear on the day of the event. Mothers, bridesmaids, friends are welcome to come with you, although not required. My fitting area is not large – so please limit them to 2 or 3. Bringing small children may distract your attention, but they are welcome to join you if needed ( I do have toys to help keep them occupied) Karen's Thimble is a home-based business and my mission is to provide you with a joyful, customized experience.
What should I expect at my fitting?
When you arrive, we will take a look at your dress on the hanger. We will discuss what you believe is needed and the date you need it. You then put on that beautiful dress. When you are dressed, we'll take a look at what is needed to make your dress fit you comfortably.
I will insert pins in the garment wherever alterations need to be made, beginning at the top of the dress (straps/sleeves) and then, proceed to the bodice, the hips, and the hem (if it is appropriate at that time to do that). When finished, you will get changed back into your street clothes. I may then take your measurements (bust, waistline, hips and perhaps some other measurements) if needed and review the summary of what is needed for the alterations. You will be provided with a ballpark quote for the cost of the alterations. A timeframe for when those alterations will be completed will also be discussed. Then, you'll be on your way!
I will contact you when your dress is ready for another fitting or is finished and ready for pickup.